MoodTrackers are here to add a little mindfulness to your day!
What are 'Mood Trackers'?
Mood trackers are a positive psychology technique for improving mental health where a person records their mood using mood tracking, usually at set time intervals, in order to help identify patterns in how their mood varies. You may already be aware of mood trackers. They come in all sorts of designs, some record a month & others a full year but the basic idea is the same, you use colour to map & record your changing moods over time. Mood trackers are usually coloured with crayons or ink on paper. Colouring is an excellent mindful activity.
Mood trackers are naturally colourful, vibrant and visual as you paint your moods throughout the year. The results create beautiful personalised pieces of art or 'Mood Art'. At Mood Trackers we take this a step further to help you create beautiful stitched mood artwork you can frame and display on your walls.
Mood trackers as 'Mood Art'
The Paintbox Collection 'A year in stitches' is a 'Mood Art' craft project. It includes 12 patterns, one for each month of the year, each month has its own pattern, with one line of stitching for every day of the month. Each pattern is designed to be stitched one line at a time every day for a month. Some are a simple line, others are a little more complex, like little puzzles to work out the best way to stitch them.
Each pattern comes with a pattern with a colour scheme of 6 colours ready to be stitched as a simple daily mindful activity with results similar to the image on the left and below.
But each pattern also includes a 'moodtracker' colouring sheet for you to record your mood across the month. Use this colouring sheet to record your daily moods, then use this as a pattern for your personalised and unique moodtracker stitching project.
The images show the 'August' design when stitched by following the pattern, and the moodtracker design sheet you can use to record your own mood colours during the month.
There is also a colour design sheet you can use to design your own colour scheme if you prefer.
You can stitch the designs at any time, just remember to record your moods on the mood tracker design sheets.
What colours should I use?
When creating your 'Mood Art' you can choose to use the included colour set, or the standard set of colours listed below, or you can create your own colour scheme, perhaps your favourite shades or to match the colour scheme in your home. The patterns will work with any colour set.
You can make your mood trackers as simple or complex as you choose.
I keep it simple with 6 mood colours but you could use more or less, the choice is yours – you can add words or symbols to the colouring sheet that describe why you have used a particular colour on a particular day.
Or add more colours to blend moods across your full day & stitch your daily line using several colours. It is completely up to you.
My 6 standard colours are pink, red, orange, yellow, green & blue but you can of course use your own unique set of colours instead.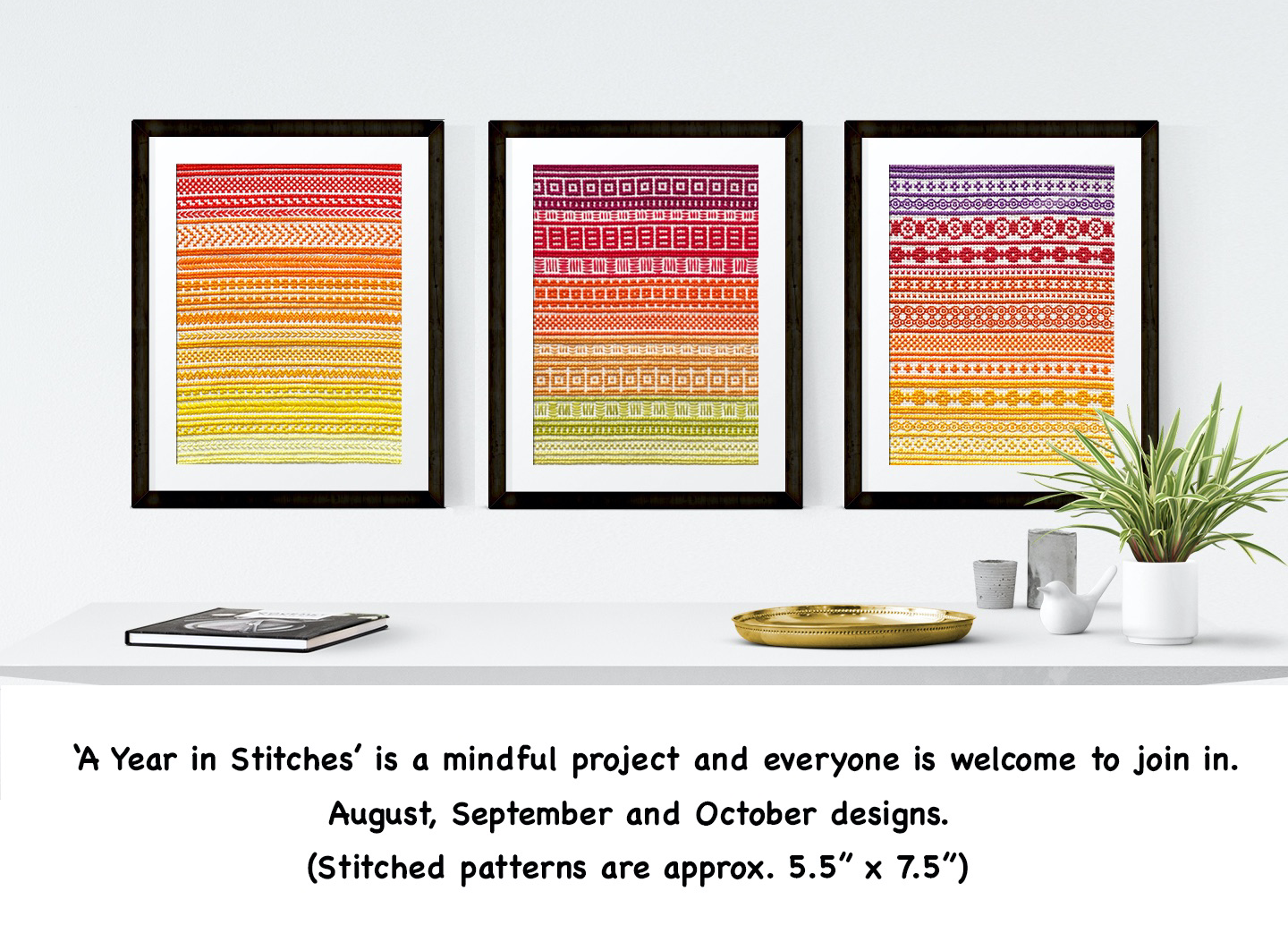 What can I use my mood tracker for?
Some people use them for personal development and others to help with mental health. They are perfect for taking a 'mindful' timeout every day and they can also be purely for fun. Another idea is to use them for recording memories and life events by marking special days in special colourful stitches.
Use mood trackers to create mood art that records your wedding planning or your pregnancy and the birth of a child – create a stunning visual memory.
'A year in stitches' will help you create beautiful artwork to frame and hang as modern art in a gallery in your home.
Find out more about mindfulness and why craft can be the perfect way to take a daily time out
Find out more about the new Paintbox Collection that lets you design your own unique mindful art
Downloadable craft resources for mental health, mindfulness, resilience, personal development,
or just for fun!