Design + Create & Sell online
Welcome to Latch Farm Studios for living a creative life: crafting, making, selling & buying craft & resources in the digital age. A resourceful and practical website for crafty people. Interested in buying digital assets or selling your digital art ?
Not sure how to get started? Here is an introduction to passive earning and online selling & buying.
Including: creating & selling online, discovering online digital resources, buying craft materials & 'creating' your very own website.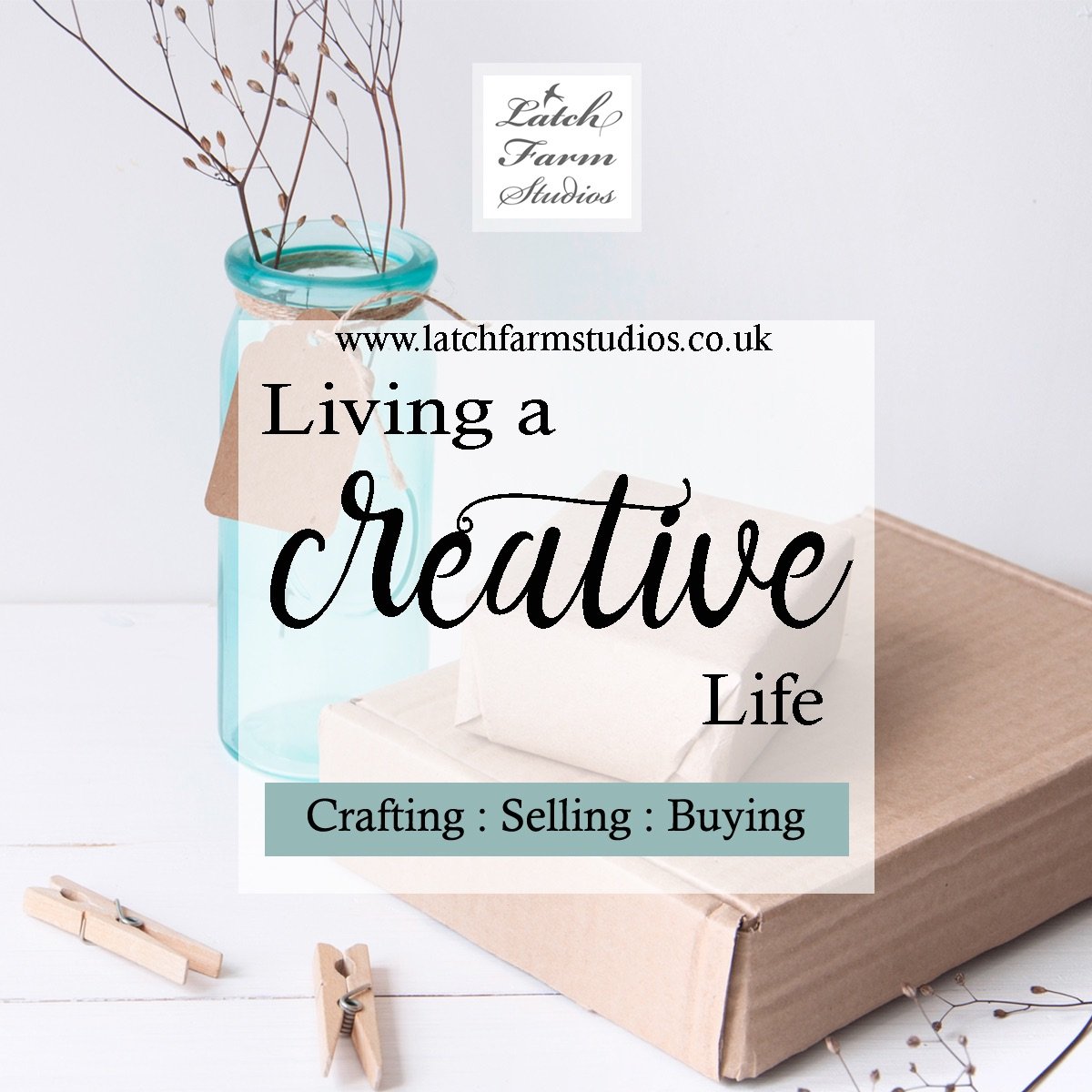 Today there are many opportunites for buying and selling craft & digital resources online and here I will share with you my favourite places and ideas of where you can begin.
A good starting point is to visit my online stores to see where I sell digital art and photographs on a fantastic range of products - you can find links on my Latch Farm Studios page. From my links you can start to investigate these huge online market places and find other artist's individual stores full of their lovely items. This will give you ideas & open up opportunities for you by demonstrating where you can start to sell your art & designs and create online products, to enable you to begin earning a passive income 24/7 in a store that never closes anywhere in the world .
Unsure if people would buy your digital art – start by exploring what other people successfully sell online. Follow the links to take a look at the digital assets people offer in their online stores for royalty payments on Zazzle and Redbubble.
Please note that my posts may contain affiliate links - if you buy something through one of those links, you wont pay a penny more, but we get a small commission as craft professionals at no extra cost to you to help support this site. Thank you.
Redbubble is my favourite site to sell on. It has over 700,000 independent artists. A global community making their creations available on awesome stuff like tees, cases, throw pillows, and more.
Redbubble, a free marketplace that helps thousands of artists reach new audiences and sell their work more easily. RB gives you access to a wide range of high quality products, just waiting for your designs to make them more amazing. They coordinate everything from printing and shipping through to ongoing customer service, giving you more time to focus on creating great art and design.
Redbubble also has a fantastic artist & photograper community offering group competitons and more.
Click on the example images to see the huge variety of products available for you to sell your images on Redbubble. Check out some of the other designers on Redbubble. Then set up your own free store.
Passive earning as easy as 1 2 3. Join for free using the link below, upload your image and add it to their products, and there you go - you are now selling online in the Redbubble marketplace in your own Redbubble store.
Get 20% off when you buy gifts for becoming a Redbubble member by following this link!
Click on the REDBUBBLE logo on the website
Where you can buy amazing art & craft from artists, designers and crafters all over the world. Try exploring Etsy. Etsy is ideal for selling physical items with lots of support for opening your first online store.
Here is a handy link to explore Daily Discoveries on Etsy or click the images & get a taste of what you can buy & what people sell on Etsy.
Zazzle is a free marketplace that enables thousands of artists to sell their artwork to new audiences. Just upload your designs on any of their products and they do everything else from printing to shipping to handling customer service. Sell your artwork on hundreds of retail-quality products and set your own royalty rates. It's easy and FREE!
Latch Farm Studios has been on Zazzle for over 14 years now, click the link to visit my store and then click on the Zazzle logo to start to explore this huge online store.
Did you know you can buy & sell stock images and digital media online?
Did you know you can buy other peoples photographs to use them on your website or to create digital art to sell? Or sell your own digital assets?
You can of course sell images with Redbubble, Zazzle and digital resources on Etsy, but Creative Market specialises in digital resources.
Creative Market helps people of all skill levels make their creative ideas a reality with more than 3.9 million handcrafted fonts, graphics, photos and more to inspire and speed up projects. Assets available on Creative Market are used thousands of times per day to create everything from small business flyers to Fortune 500 mega campaigns.
Creative Market has a massive collection of digital assets to help you discover the digital resources you need & to get you started they offer 6 free resources for you to download every week.
Click here for free digital resources you can download today.
Take a look at this amazing graphics bundle
The favourite source for craft supplies and inspiration.
CraftStash is the fastest growing online craft store that specialises in papercraft for card making, journaling, mixed media and much more! They have over 10,000 products to choose from and are constantly adding new brands and new products from around the globe.
They've got all of your favourite brands, from the largest and most well-known such as Tonic Studios, Crafters' Companion, Tim Holtz and Ranger Inks to more boutique brands including Craft Consortium, The Paper Tree and Sticker Kitten. They have all of the machines and tools you could possibly need no matter if you're a stamper, a die-cutter, a journaler or an all-rounder and they most definitely love colour - you can find every shade and every tone through their vast range of media including embossing powders, glitters, paints, brush and fine markers.
They have loads of inspiration to share with you, including craft tutorials to inspire you & projects made by our customers and favourite bloggers on Facebook, Instagram and YouTube.
Click the Craft Stash link and have a look around the store.
Ready to CREATE your own website?
I have been creating websites for over 20 years, first in basic html, then with Dreamweaver, Wordpress of course, and with several websites hosts including CREATE. This is my CREATE website.
Now there is only one website host I recommend and it is CREATE.
From basic websites to online stores CREATE does it all, and makes it simple for anyone & everyone to make a stunning website. Using intuative tools you can quickly make an impressive website using lots of creative elements even with little or no knowledge - and the support is fantastic.
Looking to design your own website? Choose CREATE and you can't go wrong. Click on the image.
It is often useful to look at other sellers to see what is currently popular, not to copy of course but to gain inspiration and knowledge & research online selling & successful websites to help you develop your own. Take a look at Moonpig.